"Class is not defined by our circumstances – it's our reaction to those circumstances that defines who we are." – Jordan Christy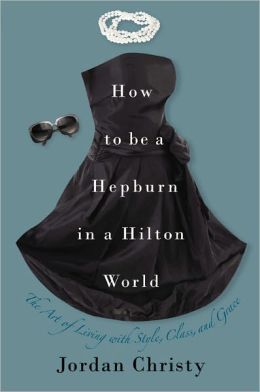 So last month, while on my trip to Ohio, I read "How to Be a Hepburn in a Hilton World: The Art of Living with Style, Class and Grace"

by Jordan Christy (eReader). This book was full of "exactly" moments for me. Unfortunately, the terms 'class' and 'smarts' is quickly becoming a thing of the past. When Miley Cyrus "twerking" makes headlines for weeks and millions of views on her music videos, there is a problem.
Although there were a lot of things in this book that I already knew or do, I appreciated that it reinforced that these are qualities and not flaws. She touches on almost every area from looks, confidence, relationships, career and friends. All the Do's and Don'ts. Totally enjoyed it. Kinda wish I would have purchased it in paper book, so I can easily refer to pages in the book. Not as easy to do on the iPad. Plus, I like the cover. Cute book to have in my collection.
One of my take-aways from this book is the Smart Girl Activities List that she talks about in Chapter 2. As soon as I read this part, I immediately pulled out the notes app on my iPad and created a list of my own.
1. I have talked about doing this for the past year now but kept pushing it off for reason or another. After much though and discussion with the Mr. I am getting serious. This is gonna happen.
2. The Mr. will be happy with this... he may be "italian" but definitely doesn't speak it fluently.
3. I try to do this already but I want to be more dedicated. I want to be informed. I want to know what's going on in my community, state, nation, and world.
4. I am an active member at my church and try to volunteer in different ministries. However, I would like to volunteer for another organization in something that I care about such as the local animal shelter or women's refuge.
5. Earlier this year I attended the Florida Women's Conference hosted by the Florida Women's Diversity council and had such a great time. It was inspiring to hear the stories of other women, who hold leadership positions in their companies, discuss how they achieved their positions overcoming the glass ceiling. I want to attend more, paid by my job or paid by my wallet.
XO